Microfilters stop broadband and voice signals interfering with each other. Without them, you're likely to have problems with your broadband connection and speed. You may also hear high-pitched noises and interference when using your phone line.
A microfilter looks like a telephone adapter/line splitter with two sockets:
One socket (usually marked ADSL or DSL) should connect to your router
The other socket connects to a telephone handset or other device (e.g. a fax machine or digital TV box)
If your master socket has a faceplate with two sockets (what's this?) then you won't need to use microfilters.
Note for fibre customers: If an engineer has installed fibre service previously you'll need to completely remove your old router, cables and Openreach modem (if present) before installing your wireless fibre router.
Where to put your microfilters

You need to connect a microfilter to each phone socket in use in your property, as shown in the example above.
Phone sockets can used by phones, alarm systems, fax machines and digital TV boxes. Make sure you don't miss anything out (don't forget to check all floors of your property). Most router packs include one microfilter. If you need more, you can get them from most electrical stores and supermarkets.
It's best to connect your router to the master socket, but if you're using an extension cable, install a microfilter on one end - not both
Avoid 'double filtering' - don't connect one microfilter to another
If you have a double master socket you don't need to use any microfilters
Got a splitter? - You can connect two or more devices to one microfilter
If you don't have enough microfilters, leave something unplugged until you can get more
Not using one of your phone sockets? - there's no need to connect a microfilter
How to install a microfilter
This is the easy part, just follow the steps below:
| | | |
| --- | --- | --- |
| Step 1 | Remove the existing telephone cable from your wall socket. | |
| Step 2 | Plug the microfilter into the empty socket. | |
| Step 3 | Plug the phone cable into the microfilter's phone socket. | |
If you're having problems with your connection or speed
If you're having problems with your broadband connection, we may ask you to check your microfilters. Here's what you'll need to do:
First, unplug every device using your telephone line
If your router isn't connected to the master socket already, move it there now and connect it directly to the socket (no extension cables) via one microfilter
(Your master socket should be close to where the telephone line enters your property. See our Master socket guide if you need help finding it).
If this fixes the problem
Something you've unplugged was causing the problem. Find out which device it is by reconnecting them and checking for problems after each one. You'll probably find that a device isn't connected via a microfilter, or that one of your microfilters is faulty.
If this doesn't fix the problem
Try another microfilter. If there's still an issue, report a problem with your service.
What's a double master socket?
A double master socket has two sockets (One for broadband and one for phone). If your master socket looks like this, you won't need to use standard microfilters in other sockets as your line is already filtered.
They look like this: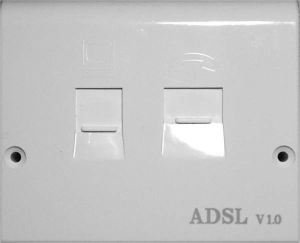 Service Status
For full details of our current issues or any maintenance work that could be affecting your service please visit our Service Status site.
Can't find what you're looking for?
If we've not been able to address your query through a support article please contact Customer support for further assistance.